How To Use The Google Keyword Search Tool
In recent years, the focus of webmasters both small and large has shifted to search engine optimization otherwise referred to as SEO. In order to optimize your website for the search engines, you must have a reliable keyword research tool. 
What better tool than a free one? Google has created a free keyword research tool that allows you to perform your keyword research analysis, absolutely free.
Now that you understand what keywords are and how they are used in your website content, you should now discover how to use the Google keyword search tool. Not only is it a great tool but it's free. Yes, a free keyword research tool.
Learning to use Google's keyword search tool can be a little difficult in the beginning, but by using the guide below, you'll hone your keyword research skills and become an expert in no time.
---
How To Use The Google Keyword Search Tool
---
If you haven't already, you'll need to setup a Google Adwords account. Login to Google AdWords and click on "Tools and Analysis" and you'll see the "keyword tool" visible in the drop-down.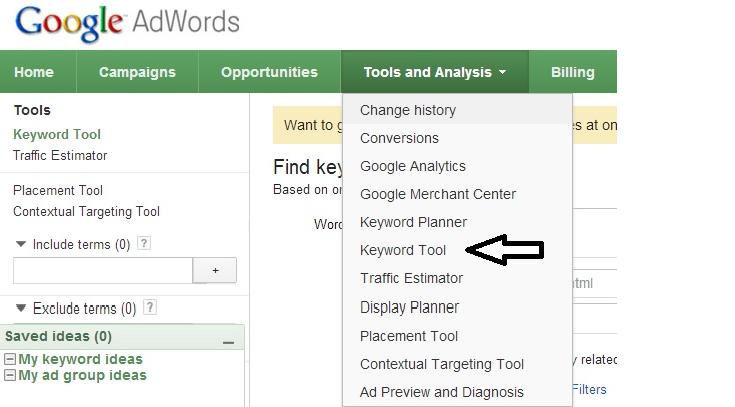 ---
Keyword Analyzer
In essence, the Google Keyword Search Tool is a free keyword analyzer. Using the keyword search tool, you enter your specific keywords or long tail keyword phrases that you wish to analyze. Enter these keywords in the box labeled "Word or Phrase" as illustrated below.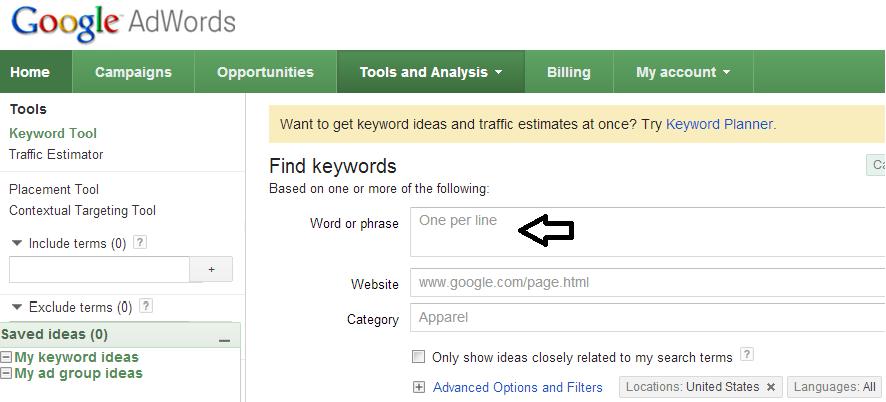 ---
Keyword Competition
In the Words or Phrases box, I entered how to play golf for an example. In the results, you can see your possible keyword competition. Not only do you get a glimpse into your keyword competition, but you can see how you can also utilize it as a keyword suggestion tool. Notice some of the results are: "golf swing, learn to play golf, learning to play golf".

---
Free Keyword Extractor Tool
Notice there is a text box for "Website". Entering the URL of a website and you now have a free keyword extractor tool. This option can be used to search other websites for possible ideas for your website keywords

---
Sort Results
Use the sort option to take advantage of viewing your keyword search results in an order that shows how many global monthly searches are made for your specific keyword term. Here you'll see the competition is low for the keyword search term "how to play golf", while the global monthly searches are 246,000. This is a niche you can win hands down. Notice the competition for "the golf swing" is higher but the global monthly search is 450,000 making it a niche that has significant search potential.

---
Google Keyword Search Tool Advanced Options for Use
If your website or business is country specific, you can filter your keyword results by country. Click on the "Advanced Options and Filters" to filter your keyword results by a specific country. You can also add filter ideas such as "Local Monthly Searches" greater than a threshold value (a threshold that you determine).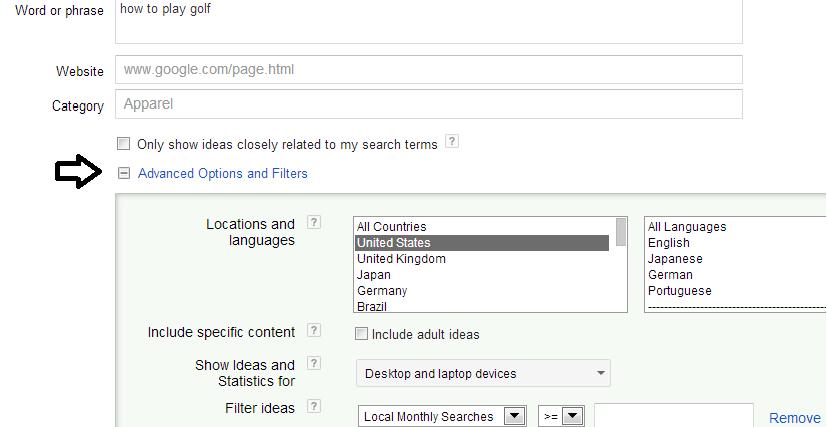 ---
Now that you understand the value of the Google Keyword Research Tool, I'm sure you'll be using it quite often to hone your keyword research skills.
When doing your keyword research, there are several things you want to consider that I'll bullet point below.
---
Keyword Search Strategy Tips
Narrow Keywords
Focus your efforts on keywords that have between 5,000 and 30,000 global monthly searches. This ensures your competition is low while still having enough traffic to sustain your efforts.
Keyword Competition
Whether your business is online or offline, you have to keep an eye on your competition at all times. Focus on keywords where your competition is low. Notice the value in the Approximate CPC column, this is cost per click. The more advertisers are willing to pay, the more others will be targeting those keyword terms, resulting in increased competition for your website.
Don't Get Overwhelmed
Don't bite off more than you can chew in the beginning. By focusing on 5-10 specific keywords or long tail keyword phrases, it allows you to work toward a high search ranking for those keywords. Once you've accomplished your goal, move on and focus on other keywords to rank well for.
Random use of Keywords
Don't just randomly throw a keyword into your content if it's not relevant. Keep your visitors first ahead of anything else. Your highest priority is delivering content or advice to solve their problem. Sometimes it's easy to get all wrapped up in the details and forget the visitor. Don't let it happen to you.
In summary, the Google Keyword Search Tool is a pretty snazzy tool, especially considering it's free. I think you'll be hard pressed to find another free keyword research tool that has all the features offered by Google.
---
Related Articles
Choosing Keywords for Your Website
---
Discover Why Keywords are Vital to Your Success